Digital Anemometer AVM 03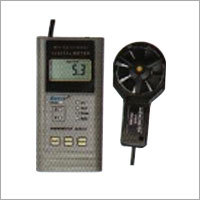 Digital Anemometer AVM 03
Product Description
Digital Anemometer AVM 03
Widely used in data collection for boiler, refrigeration industry, ventilation duct, environment monitor, navigation measurement, weather forecast, collection of the weather datum for outdoor busywork and fire department.
This portable anemometer provides the convenience of a remote sensor separately.
Multi functional. the measurement unit can be selected according to different requirements.
Built in temperature measurement.
Resistance sensor for fast temp. response time.
Low-friction ball-bearing design allows free vane movement.
A sensitive balanced vane wheel rotates freely in response to airflow.
Conventional twisted vane arms, always a source of unreliability has been eliminated.
DATA HOLD function for storing the desired value on display to read.
LCD display for clear readout even in bright ambient light condition
Wide applications: use to check air conditioning & heating systems ,measure air velocities, wind speed, temperature, etc.