Digital Gloss Meter Microgloss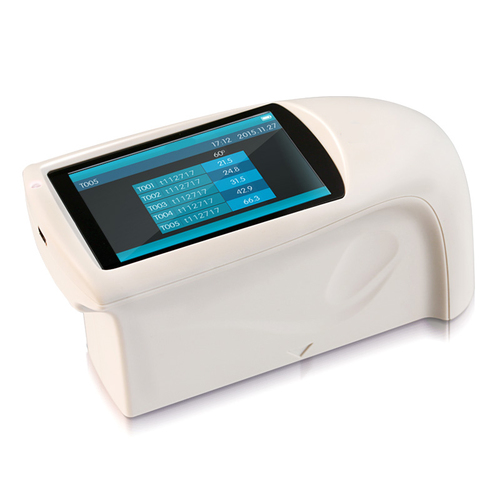 Digital Gloss Meter Microgloss
Product Description
Digital Gloss Meter Microgloss
Features:

20, 60 and 85° in one: from high to low gloss - have the specified angle on hand.
Ergonomic design.
Display 5 sets of measurement data, good for comparison.
Built-in lithium ion rechargeable battery.
Basic model measurement can meet basic glossiness testing requirements.
PC interface for more extended functions.
One button for all angles measurement at the same location.
Comply with international standards.
Stable performance, easy to read data.
Technical Specifications :
Model
Metrix+ Microgloss
Measuring Angle
20°/60°/85°

Measuring Area(mm)

20° : 10x10 | 60° : 9x15 | 85° : 5x36

Measuring Range

20° : 0~1000GU | 60° :

0~1000GU

| 85° : 0~160GU

Division Value

0.1GU

Repeatability

0-10GU : ± 0.1GU | 10-100GU : ± 0.2GU | 100-1000GU : ± 0.2%GU

Reproducibility

0-10GU :

± 0.2GU

| 10-100GU :

± 0.5GU

| 100-1000GU : ± 0.5%GU

Measurement Standard

Conform with JJG696 first class glossmeter working requirement

Chromaticity Corresponding

Corresponding with CIE 1931(2°) under CIE C light source

Accuracy

±1.5 , ± 1.5%

Measuring Time

0.1s

Dimension

L*W*H : 160mm*75mm*90mm

Weight

350g

Battery

3200mAh Li-ion Battery ,>10000 times(within 8 hours)

Display

TFT 3.5 inch

Operation Temperature

0~40

℃

(32~104°F)

Storage Temperature

-20~50

℃

(-4~122°F)

Humidity

<85% relative humidity, no condensation

Standard Accessories

Power Adapter, USB cable, User Manual, Software, CD, Calibration Plate.

Optional Accessories

Mini Printer