Digital Hardness Tester Hardmaster-P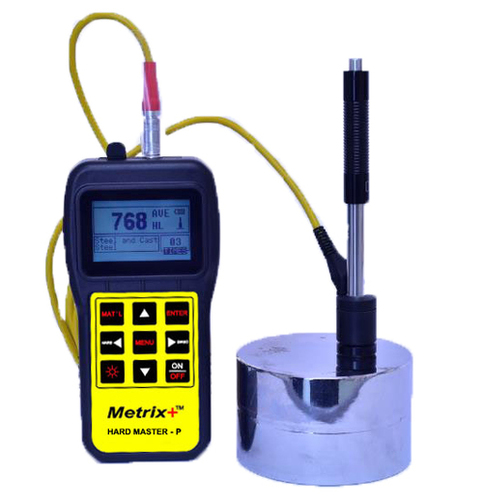 Digital Hardness Tester Hardmaster-P
Product Description
Digital Hardness Tester Hardmaster-P
Features:
LCD display of 12864 matrix with back-light showing all functions and parameters.

Converts to all common hardness scales (HV, HB,HRC, HRB, HRA, HS).

Powerful PC Software available and USB 1.0 interface and USB with Protective Membrane.

7 types of Impact Device optional, which don't need to be recalibrated while charging.

Memory of 600 groups data(impact times:32 1.

Material of cast steel is added; HB values can be read out directly when D/DC impact device is used to measure cast steel work piece.

Normal battery AAA and power store while USB connected and charging Controlling circuit.

Inbuilt function of Software Calibration.
Technical Specifications :
Model

Metrix+ Hardmaster-P

Hardness scale

HL, HB, HRB, HRC, HRA, HV, HS

Memory

4impact times: 32

Measuring range

HLD 170See below table 1 and table 2

Accuracy

6HLD (76030HLD) error of displayed value

6HLD (76030HLD) repeatability of displayed value

Standard Impact Device

D

Optional Impact Devices

DC/D+15/G/C/DL

Max. Workpiece Hardness

996HV(For Impact Devices D/DC/DL/D+15/C)

646HB(For Impact Device G)

Min. Radius of Workpiece

Rmin = 50mm (with special support ring Rmin= 10mm)

Min. Workpiece weight

2~5kg on stable support

0.05~2kg with compact coupling

Min. Workpiece thickness

5mm (Impact Devices D/DC/DL/D+15)

1mm (Impact Device C)

10mm (Impact Device G)

Min. thickness of hardened surface

Min. thickness of hardened surface 0.8mm

Power

Normal AA Battery

Continuous Working time

approx. 100 h (back light off)

Operating temperature

0~40

Relative humidity

90%

Overall dimensions

125*67*31mm (main unit)

Weight (main unit)

0.3kg

Standard Configuration

Main Unit, Impact Device Type D, Leeb Standard Test Block, Cleaning Brush, Supporting Ring, Manual, Carrying Case.

Optional Configuration

Mini-printer, Data Pro Software(USB) + Communication Cable