Digital Insulation Tester DIT 954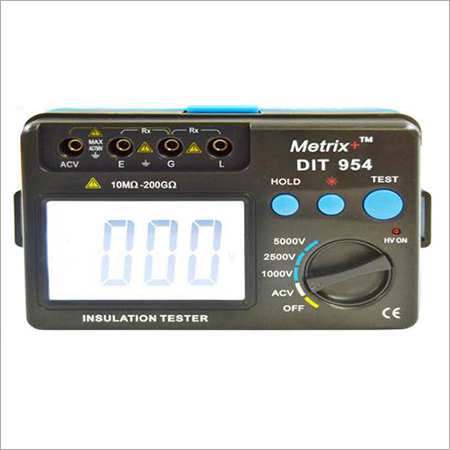 Digital Insulation Tester DIT 954
Product Description
5 kV Insulation Tester (DIT 954)
Characteristics

2.1 DIT 954 is a electron controlled mini type instrument, there into, the high voltage insulation resistance tester has three insulation resistance for voltage test. safety standard IEC61010

2.2 The design is up to the following safety standard: IEC 1010. 89/ 336/ EEC (electromagnetism compatibility, Nov, 1992, EMC) P73/23/EEC (product safety regulation: Nov, 6th, 1979, low-voltage regulation: Feb,19th,1973)

2.3 Automatically release voltage function:

2.4 Be used for the insulation resistance of all kinds of electron equipment and insulation material, such as transformer \ generator cable \ switch \ electric equipment and so on. Be used for the maintenance \ test and check of all the series of electric equipment.

2.5 Rated voltage variable DIT 954 Rated voltage can be switched among 1000V, 2500,5000V by knob switch.

2.6 High voltage indication There is the LED in the instrument (HV ON) indicating the high voltage work state.

2.7 Low battery indication.

2.8 Battery drive, removing the operation of hand-cranked generator.

2.9 3 1/2 digital display, reading clearly.

2.10 The measurement range for DIT954 is 10MQ 199.9GQ.

2.11 Convenient operating and taking.

2.12 Strong carrying capability, output short circuit current is <20 mA.

2.13 Complete protecting circuitry, in case of voltage counterattack and output short circuit protection.

2.14 Can test AC Voltage 1V-750V, the frequency of AC Voltage is 40Hz-70Hz.

2.15 International fashion design, dust proof and damp proof, can be applied to outside operation.
2.16 Meter Size: 170 114 64mm
2.17 Weight: 500g (Include battery)
Technical Specifications
Test condition: test temperature / humidity 23

5

C/4575%RH;

Low battery voltage indication;

Insulation resistance:

500MQ (1000V);

Voltage with stand: AC 2KV 50Hz 1 minute;

Operation temperature and humidity:

0C 40

C / Relative humidity 85% or less;