Digital Lux Meter LX 101+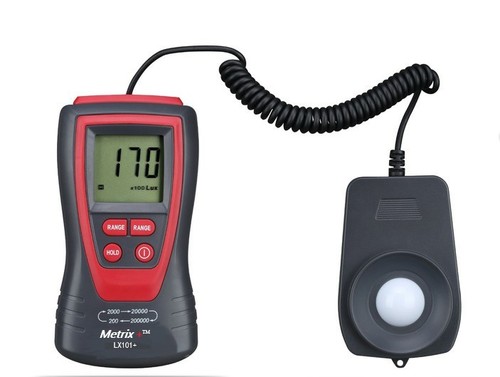 Digital Lux Meter LX 101+
Product Description
Digital Lux Meter 101+
The meter is a stable, safe and reliable digital lux meter, widely used for the illuminance measurement in lamp industry, agriculture and animal husbandry, mining, laboratory, photography and video filming, health and safety regulations office, household and streetlamp construction.

Features
Separate light sensor for measuring at the most optimum position.
Data hold and range switch.
Specifications:
Model
Metrix+ 101+
Measuring range
0 ~ 2,00,000 lux
Accuracy
< 2,00,000 lux : + (3%rdg + 0.5%)
>= 2,00,000 lux : + (4%rdg + 10dgt)
Resolution
0 ~ 19 : 0.01 lux
20 ~ 199 : 0.1 lux
200 ~ 1,999 : 1lux
2,000 ~ 1,99,999 : 10 lux
Sample time
0.5 s
Display
4-digit LCD with 1999 max count
Operating temperature
0 ~ 40oC
Storage temperature
-10 ~ 50oC
Power supply
1 x 9V battery
Size and weight
Main unit : 132 x 28 x 26 cm
Weight : 202g
Standard Accessories
Lux meter with split type sensor, manual, batteries