Digital Lux Meter LX 1330A+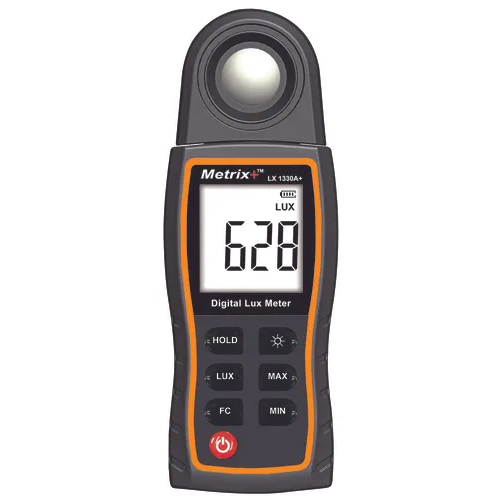 Digital Lux Meter LX 1330A+
Product Description
Digital Lux Meter LX 1330A+'
The meter is a stable, safe and reliable mini digital lux meter, widely used for the illuminance measurement in lamp industry, agriculture and animal husbandry,
mining, laboratory, photography and video filming, health and safety regulations
office, household and streetlamp construction.
Features
Rotatable sensor head for flexible measurement.
Lux and FC units with automatic switching of measuring range.
Max and min measurement values with data hold and overload protection.
Backlit LCD display, auto power off and low battery indication.
Technical Specifications
Model : Metrix+ 1330A+
Sensor type : Silicon photovoltaic cell
Measuring range : 0 ~ 1,99,990 lux (1 FC = 10.76 lux)
Accuracy : 0 ~ 9999 lux : + (4%rdg + 8dgts) ; >= 10,000 lux : + (5%rdg + 10dgts)
Resolution : 0 ~ 9999 lux : 1 lux ; 10,000 ~ 99,990 : 10lux ; 1,00,000 ~ 1,99,990 : 100lux
Sampling time : 0.5 s
Units : Lux , FC
Display : 4-digit LCD with 9999 max count, automatic switching of ranges
Power supply : 3 x 1.5V AAA battery
Operation environment : Temperature: 0 ~ 40 (<= 80%RH) ; 40 ~ 50 (<= 45%RH) ;
Storage environment : Temperature : -20 ~ 60 (<= 75%RH)
Size and weight : 178.5 x 63.5 x 27 mm ; 133g
Standard Accessories : Lux meter, manual, batteries, gift box