Digital Stroboscope DT 2239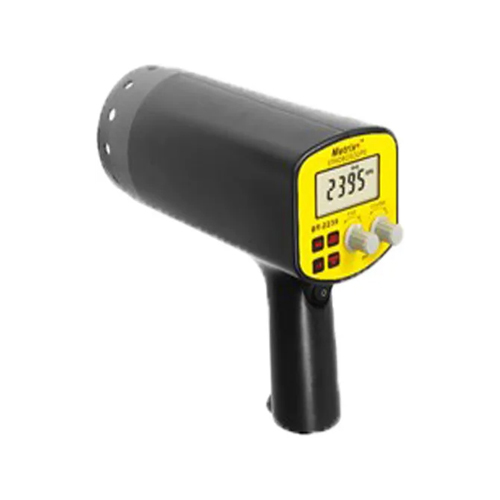 Digital Stroboscope DT 2239
Product Description
Digital Stroboscope DT 2239
The stroboscope is capable to provide image for single, two or multiple stillness for the vibration object, rapidly rolling object or a periodic motion object , and can also be used to observe the movement tracks.
Features :
Wide measuring range and high resolution.
Digital Display gives exact reading with no guessing or errors.
Automatic stop flashing to save electricity and improve flash tube lifetime.
Internal/external triggering fast conversion; x2 and /2 for fast adjustment.
Use photoelectric signal for while external triggering, achieve automatic tracking function of the pattern.
Use microcomputer technology, emerging technologies, anti-jamming technique and other advanced technology, it can measure the rotating velocity without contacting the object.
Technical Specifications :
Model
Metrix+ DT 2239
Display
5 digits 10mm LCD
Measurement Range
A : 50 ~ 12,000 FPM
Accuracy
+(0.05%n + 1d)
Resolution

0.1FPM(50 ~ 999.9 FPM)

1 FPM(Over 1000FPM)

Sampling time
0.3 sec
Internal/External Triggering conversion
External Trigger level
3 ~ 24V
With x2, /2 for fast check
H/L Range
Flashing light is brighter at low range than at high range
Flash Tube Life
100 Million times
Regular Operation conditions
No corrosive gas and electromagnetic fields
Operating conditions
Temp : 0 ~ 40oC Humidity : <85% RH
Power supply
AC 220V
Power consumption
About 250W
Dimensions
215 x 85 x 180 mm
Weight
About 1000g
Standard Accessories
Main unit, carrying case, operation manual
Optional Accessories
Spare flashing tube