Micro Power Meter PG 08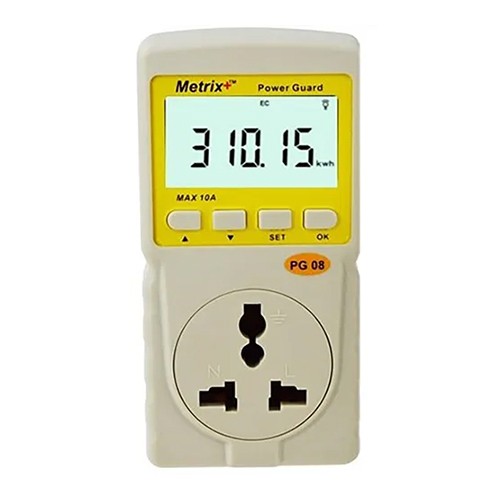 Micro Power Meter PG 08
Product Description
Power Guard(Micro Power Meter) PG 08
Applications : Teaching, Demonstration & Testing of Electrical energy consumption in household / office appliances. It can be used in houses, offices, shops, schools, laboratories, etc.
Measures :
Power(W).
Power Facotr(PF).
Current(mA).
Voltage(V).
Frequency(Hz).
Total used time(min).
Total used energy(KWh).
Carbon emission(CO2 in kg).
Features :
Smart Two Pin Socket.
Large LCD display with backlight.
Blinking LCD to alarm when KW is over threshold.
Single-Phase.
Constant: 6400imp/kWh.
Memory retention[KWh, min].
Set the alarm threshold load.
General Specifications :
Accuracy : Class 1.0
Power consumption : Less than 1W.
Input : 220V, 50Hz, 10A(max).
Working Temperature : -25oC to +55oC.
Constant: 6400imp/kWh.
Dimensions : 120 x 65 x 55 mm.
Weight : 130gms.
Technical Specifications :
Functions
Input Range
Display Format

Accuracy(% of FS)
(FS = 2200W)

Power(W)

0.2 ~ 1 W
1 ~ 5 W
5 ~ 2200 W

XXXX.xx W

< 10
5
1

Power Factor
For 0.2 ~ 5 W
For 5 ~ 10 W
For 10 ~ 2200 W
X.XXx

> 0.03 PF
< 0.03 PF
< 0.01 PF

Current(mA)
0.02 ~ 10A
XXXxx mA
1
Voltage(V)
195 ~ 265 V
XXX.xx V

0.5

Frequency(Hz)
Hz
XX.xx Hz
-
Total Usage Time(mins)
Minutes
XXXXxx
-
Total Used Energy(kWh)
For 5 ~ 2200 W
XXXX.xx kWh
1
CO2(Kg)
CO2(Kg)
XXXX.xx CO2 Kg
-