Surface Roughness Tester Microsurf 10A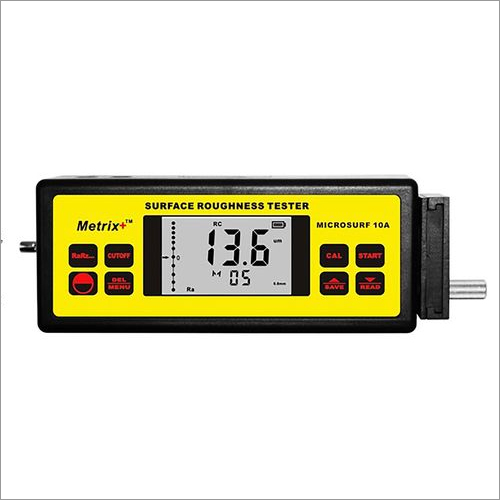 Surface Roughness Tester Microsurf 10A
Product Description
Surface Roughness Tester Microsurf 10A
High accuracy Inductive Transducer, cross-section LCD display, man-machine conversation, intuitive interface, easy operation. Can store the latest 7 groups measurements.
Product Description
Widely used in production site to measure surface roughness of various machine-processed parts calculate corresponding and clearly display the measuring parameter.
Product Features :
Multi Parameter measurement: Ra, Rq, Rz, Rt.
Use DSP chip control and Data processing, high speed, low power consumption LCD digital backlit display.
Can be measured in several parts of the surface roughness Planar, Curve surface, small hole, slot of the Irregular surface.
Can communicate with PC computer for statistics and printing by the optional cable and software RS 232C
Design of electromechanical integration, small volume, light weight, convenient with measuring value storage.
Built in Re-chargeable battery. Auto power off
Optional Adaptor Sleeve, Deep Groove Sensor, USB, RS 232 for PC Connection.
Product Parameter
Model
Metrix+ Microsurf 10A

Standard

ISO 4287 International Standard, DIN 4768 German Standard

JISB 601 Japanese Standard, ANSI B46.1 American Standard

Measuring Range

Ra, Rq: 0.005 ~ 16.00m / 0.020 ~ 629.9inch

Rz, Rt: 0.020 ~ 160.0m / 0.078 ~ 6299inch

Accuracy

Not more than + 10%

Fluctuation of display value

Not more than +6%

Resolution

0.001um if reading <10um

0.01um <10um if reading <100um

0.1um if reading <100um

Probe

Radius

10 um Default 2mm

Material

Diamond

Measurement Force

16mN(1.6gF) for 10m & 0.75mN ( 0.075gf) for 2m

Angle

90o

Vertical Radius

48mm

Maximum Driving Stroke

17.5mm / 0.7 inch

Cut off Length

0.25mm, 0.8mm, 2.5mm

Driving Speed

Measuring

Vt = 0.135mm/s If sampling Length = 0.25mm

Vt = 0.5mm/s If sampling length = 0.8mm

Vt = 1mm/s If sampling length = 2.5mm

Returning

Vt = 1mm/s

Profile Digital Filter

Filter contour : RC, PC-RC, GAUSS

Non- filter contour : D-P

Probe Measuring range
+ 80m

Evaluation length

1 ~ 5L Selectable

Metric / Imperial
Conversion
Power
Li-ion Re-chargeable battery
Working Environment

Temperature : 0~50C

Humidity : <85% RH

Product Accessories

Standard Accessories

Standard Probe, Standard Sample Plate, power Adaptor, Adjustable Leg, Sheath of Sensor, Manual

Optional Accessories

USB + Software for PC Connectivity, Adaptor Sleeve (Extension Rod), Deep groove Sensor.