Ultrasonic Flaw Detector UTFD 80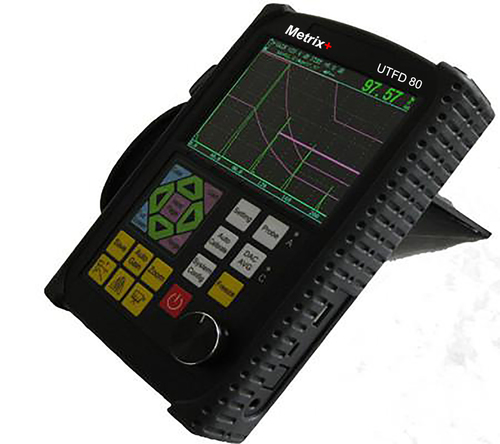 Ultrasonic Flaw Detector UTFD 80
Product Description
Ultrasonic Flaw Detector UTFD 80 is a device used to identify/rectify the flaw in any material like cracks, voids and porosity in materials like metals, plastic ceramic etc. This is a non destructive test used in aerospace, oil and natural gas production and supply industry. The test is based on Ultrasonic waves infiltrating into the surface of material and identifying various imperfections and deficiency of materials. Ultrasonic Flaw Detector UTFD 80 is a digital device used as an inspection tool by trained professionals which interprets the various sounds reflected by various abnormalities of any material helping to screen and help in the use of instruments for various operations.
Features
Automated calibration and Automated gain.
AWS D1.1,DAC (6dBDAC), AVG, TCG & B scan, 28 DGS curves.
Automated display of precise flaw location(Depth d, level p, distance s, amplitude, sz dB, ).
Knob design for fast operation.
Solid metal housing (IP65), rubber plastic dust cover included.
PC interface.
Li battery, with working time up to 10 hrs.
Small size and light weight for portability.
Automated make video of test process and play.
1000 Frames of A-scan Storage.
High-speed capture and very low noise.
Lock and unlock function of system parameters and display freeze.
Automated echo degree.
Electronic clock and calendar.